Check out these awesome engagements for Bryanda & Bryan by our talented Lauren at This Is The Place Heritage Park! YES, you read that correctly! Bryanda and Bryan. No, we did not make up their names, these are their real names and they DID fall in love.
Bryan moved here from Washington after his mission in Philadelphia and Bryanda is from Utah, so their parents did not scheme an elaborate plan to put together the cutest couple names of all time. "Bryan(da)," their official couple title, met at the University of Utah in biology class, but it might as well have been chemistry class. They quickly became more than study buddies and realized they were meant for each other.
At first meeting, Bryanda walked towards us looking like a royal princess with her perfectly primped flower crown and flowing dress. As Lauren began shooting she noticed that something strange was happening. All the animals magically listened to our every word. We're pretty sure Bryan(da) are animal whisperers. We kept getting the horses name wrong, but let's call her Rory. Rory was probably seven times the size of Bryanda, but she knew exactly how to encourage Rory to move. Not to mention Marley, the barn dog, came and posed for a solid fifteen minutes right in front of them. We felt like we were in Charlotte's Web but these were certainly not professional movie animals. It was hard to believe for us too, and it resulted in the most romantic, rustic photos you could ask for.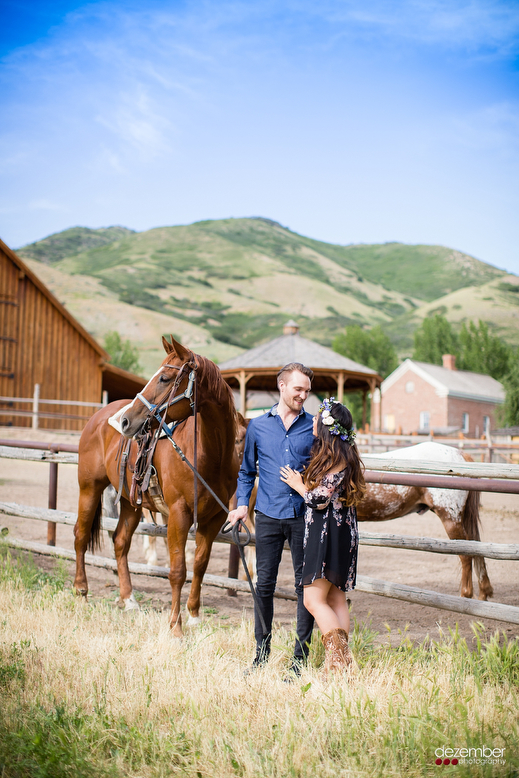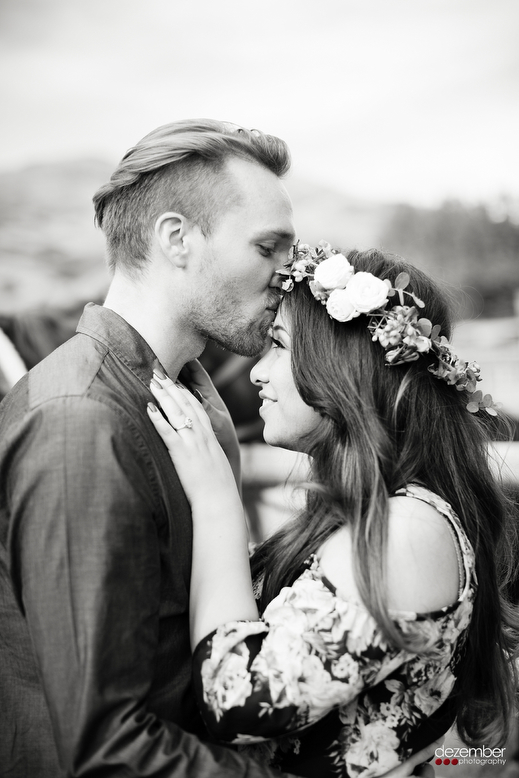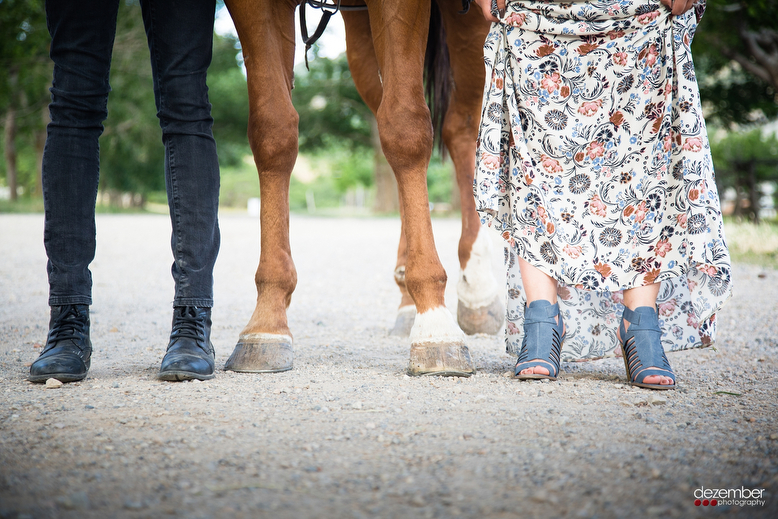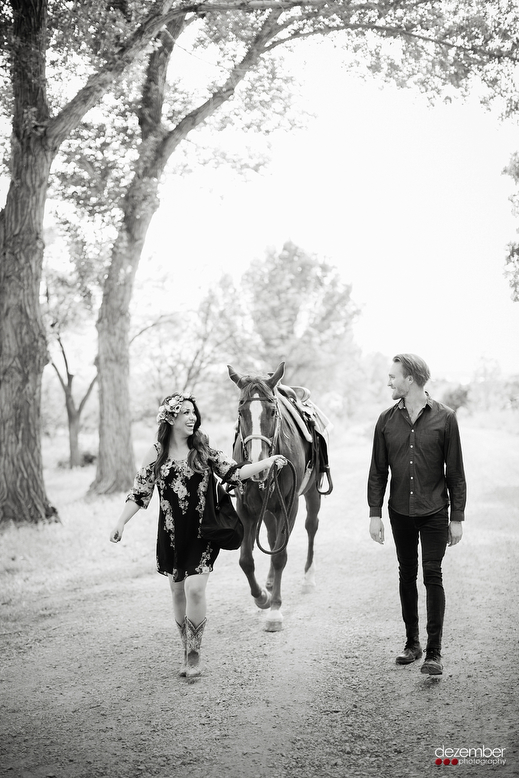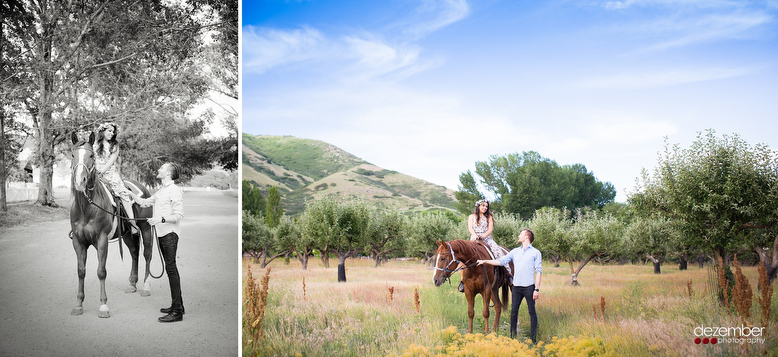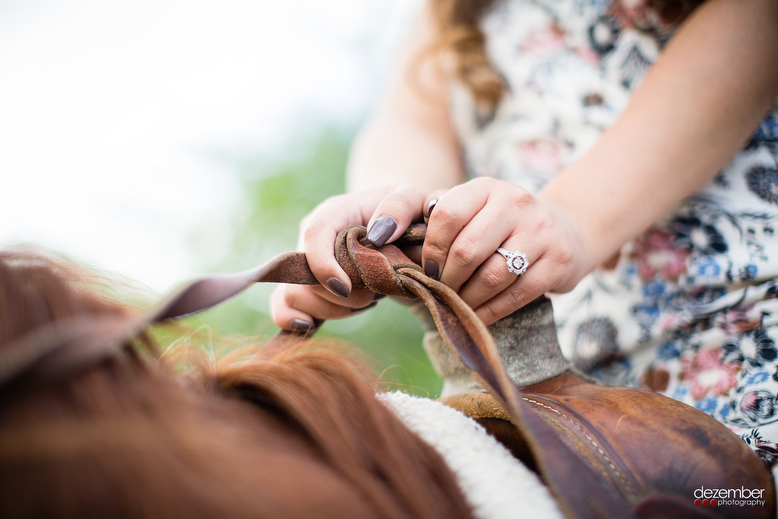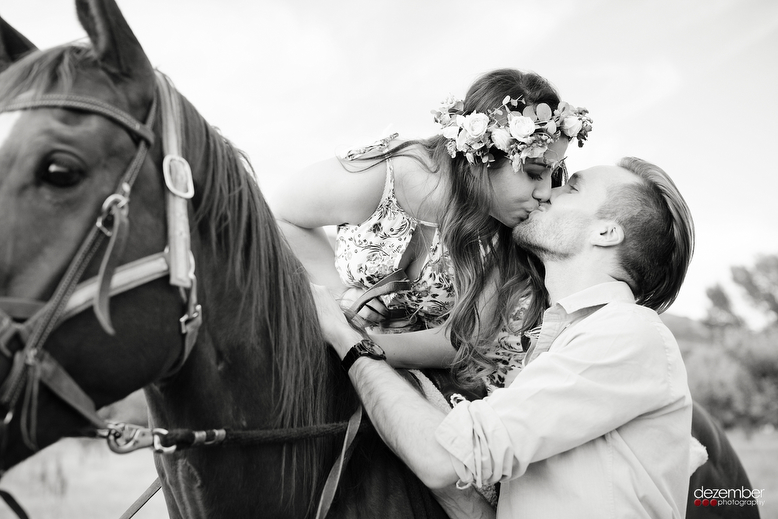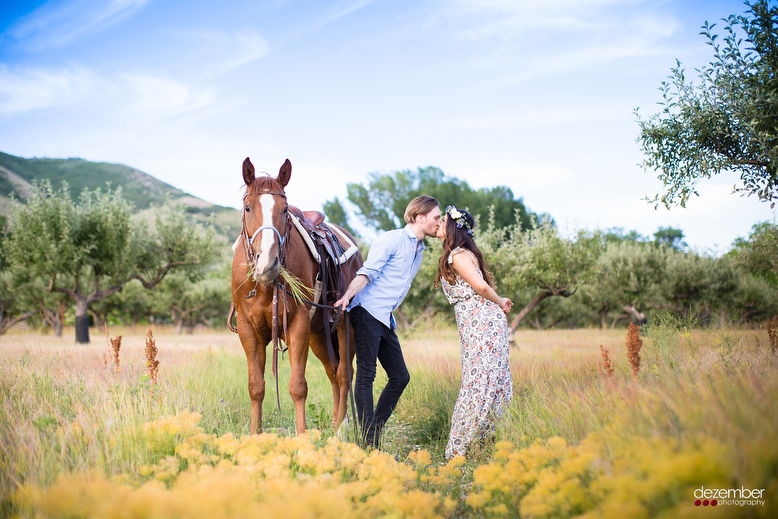 *A huge thank to This Is The Place Heritage Park for the incredible views!*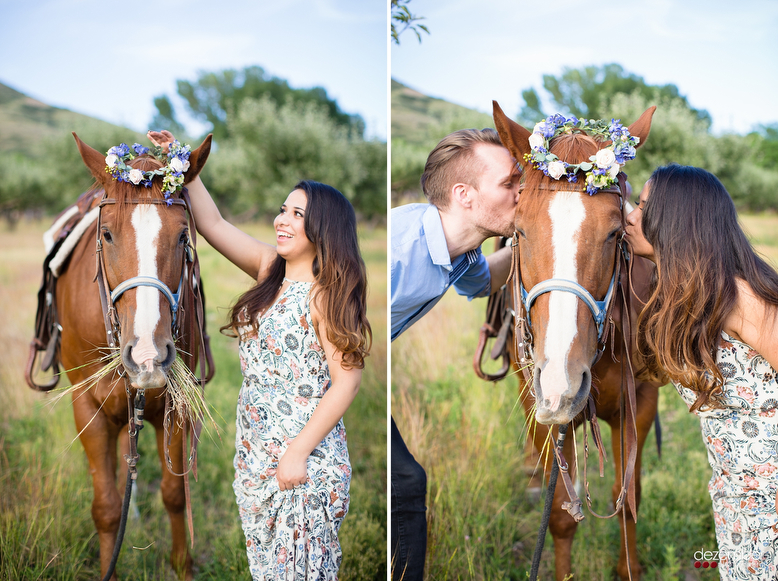 We must give props to Bryan(da). After repeatedly directing them with twirls, lifts, horse back riding stances, they continued to stare at each other with loving eyes, proving they were not only animal whisperers, but deeply in love. If you couldn't guess, we love LOVE here at Dezember.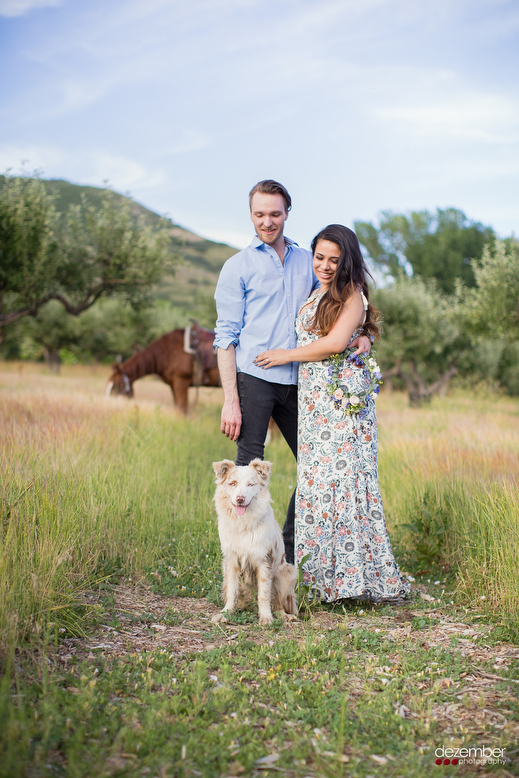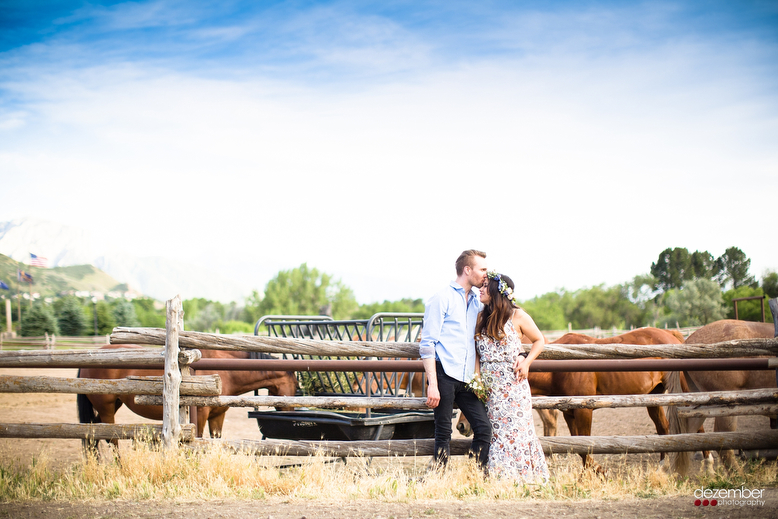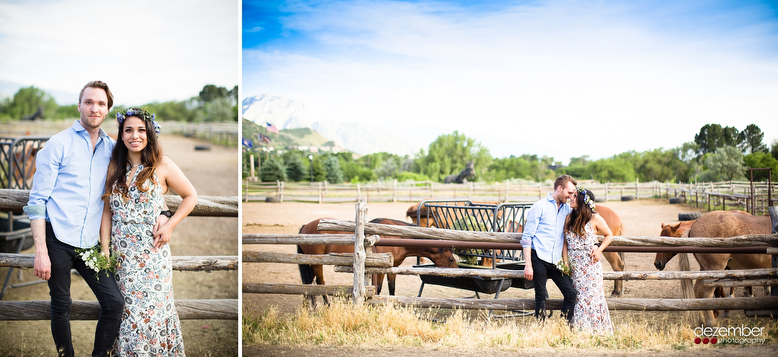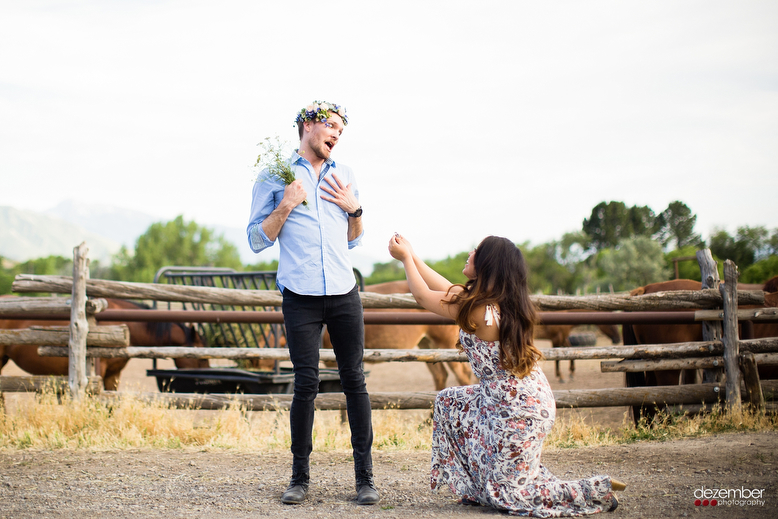 We're so thankful for Bryan(da)'s sense of humor because our laughter quota was happily filled for the day. Bryan is even wearing Bryanda's flower crown at some point in the shoot. Their silly posing and willingness to try anything resulted in spectacular photos. Someone even mentioned Bryan looks like a Nordic God with his crown, and he really does. Who knew Bryan Woods could pull off a dreamy flower crown?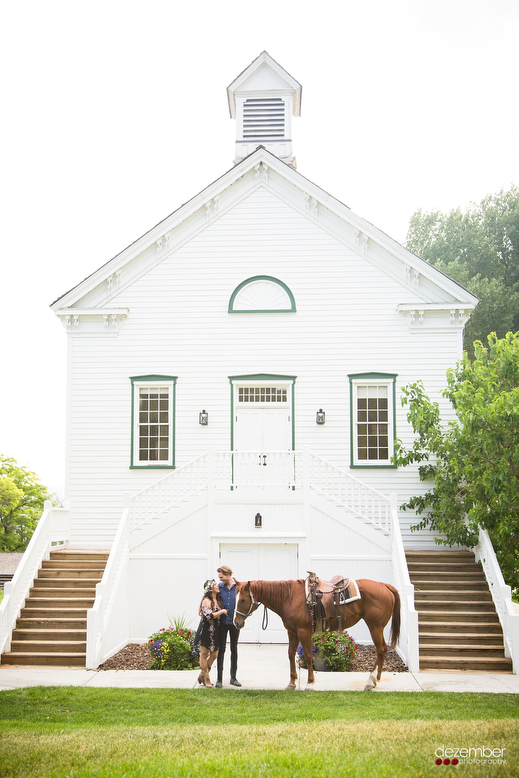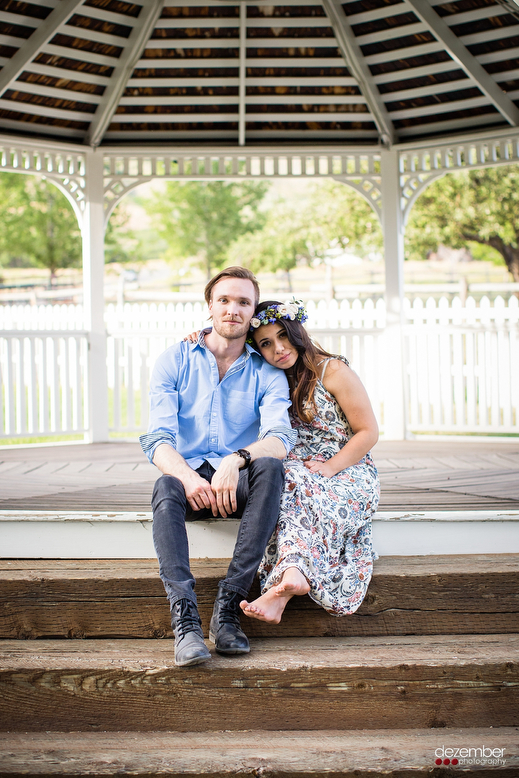 Congrats Bryan(da)! You two really were made for each other. We are incredibly excited to celebrate more special moments at your wedding October 1st.  We have word there will be a horse at your wedding as well, so let the animal whispering skills begin.