Intimate weddings are becoming a viable option for couples whose celebrations are being affected by the Coronavirus.
Did you know that the Utah County Clerk is one of the first in the nation to offer a completely remote online application process for marriage applications? Complete the application online and have your marriage certificate mailed to you up to 30 days before your wedding! You can find more info here:
http://www.utahcounty.gov/Dept/ClerkAud/Marriage.html
This could be a bit of a silver lining to everything that is happening in the world right now. With travel and group size restrictions, many couples are opting to have smaller, more intimate weddings or elopements. This online marriage application technology is super convenient and means that couples can get married anywhere in the state of Utah without ever having to step foot inside a courthouse.
We love shooting small weddings – they have a totally different but equally beautiful vibe. We have done quite a few with our favorite officiant Anita Gordon, who is continuing to marry couples as long as they keep the recommended 6 feet distance from her! You can find her here: https://www.utahweddingminister.com/ – Feel free to give her a call and chat about what you are looking for, you won't be disappointed. She tailors each ceremony to the couple's taste, religious beliefs and humor and she will be the first to tell you she absolutely LOVES what she does!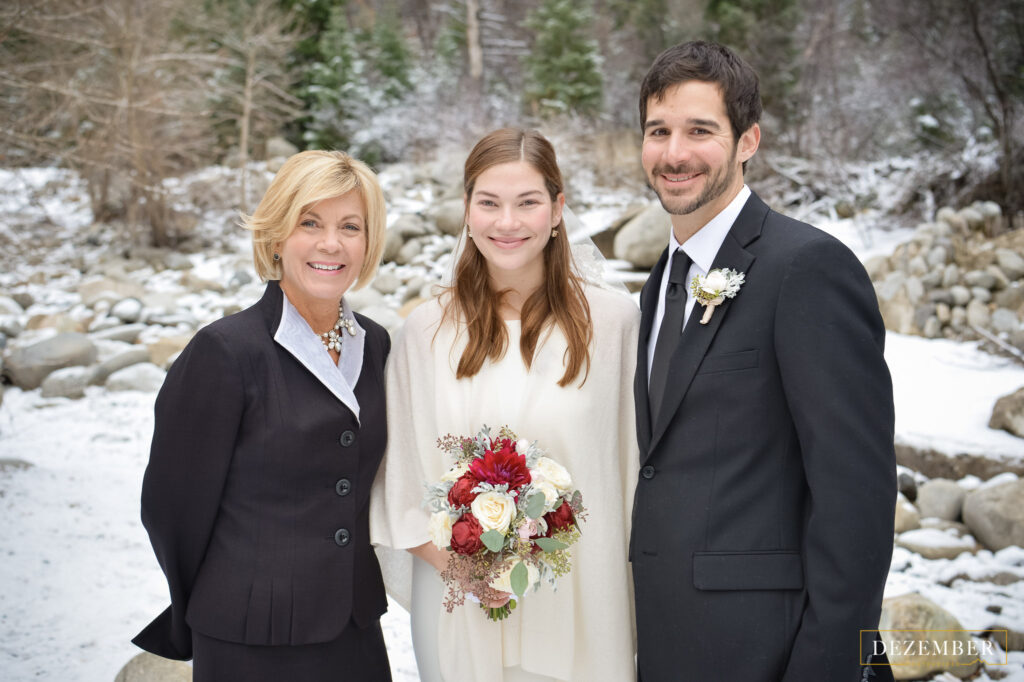 The bride and groom pose with their Officiant Anita
Utah is a beautiful state with tons of awesome locations for elopements. We were thrilled to shoot Peter and Ann's intimate wedding in Little Cottonwood Canyon. Their parents served as witnesses as the snow fell softly on their ceremony and the snow-covered riverbed made a perfect natural altar.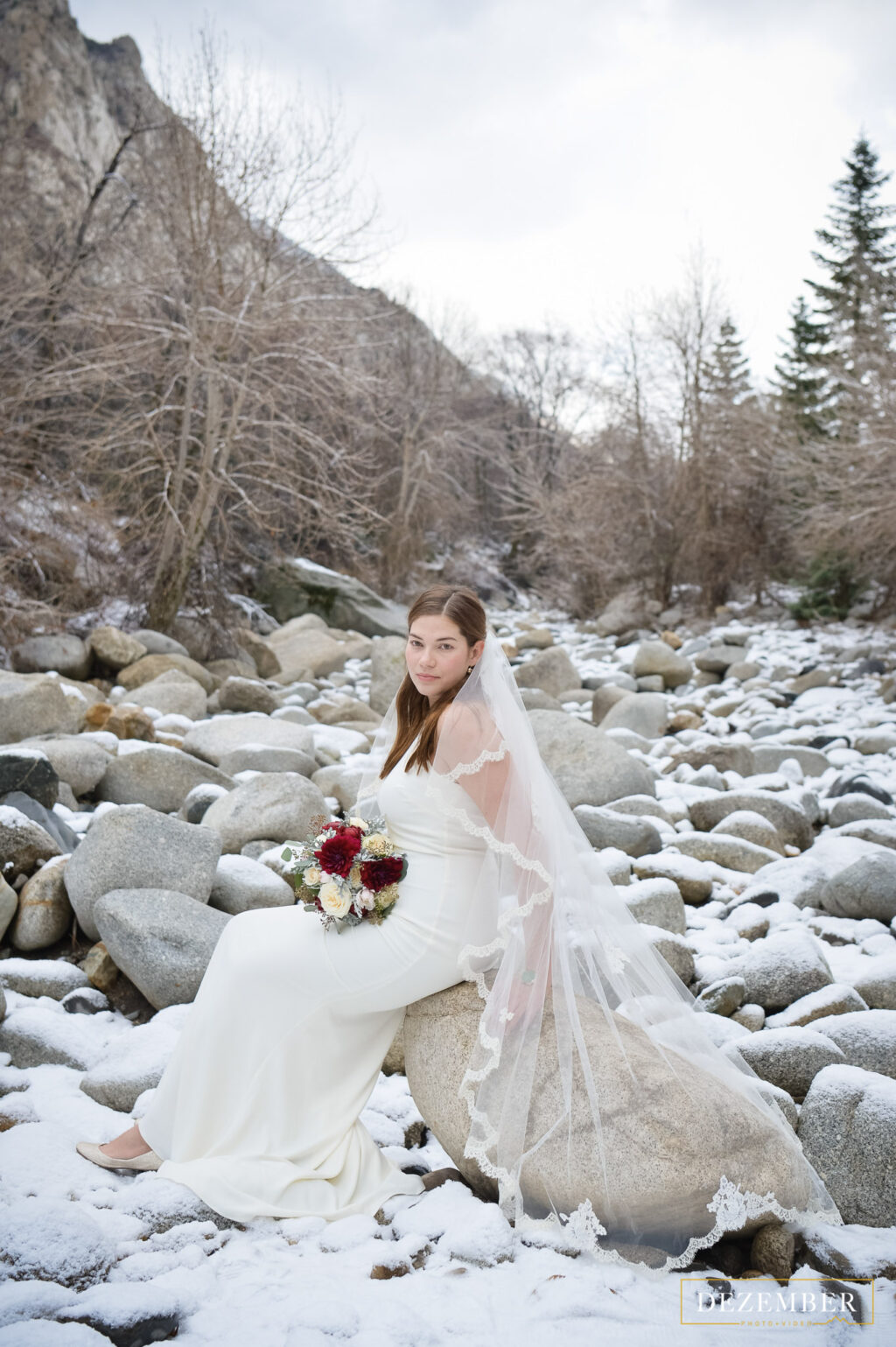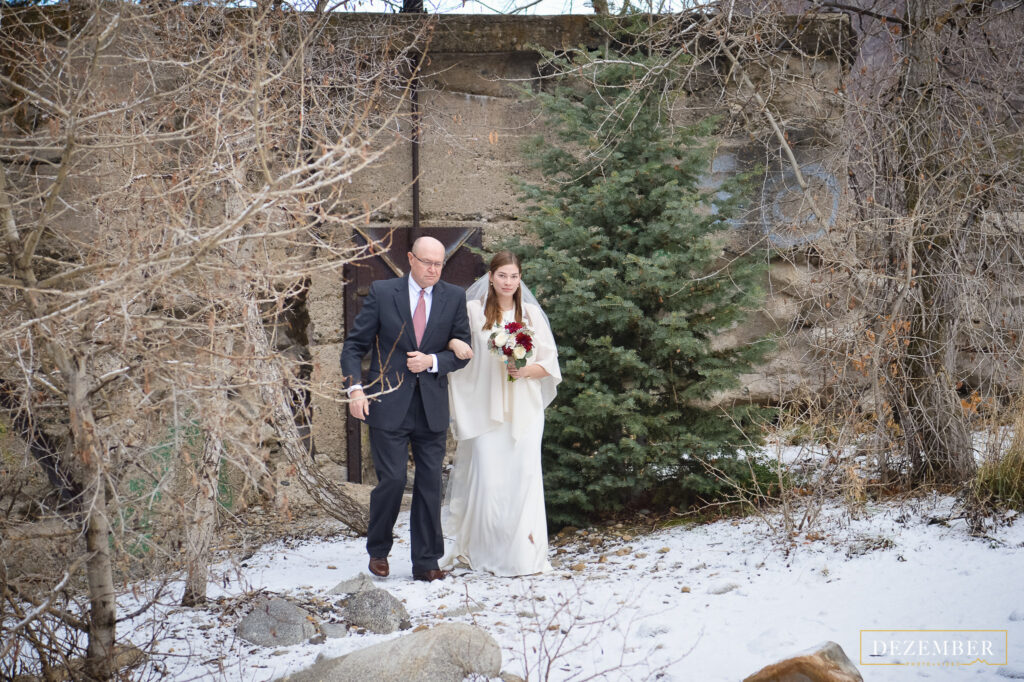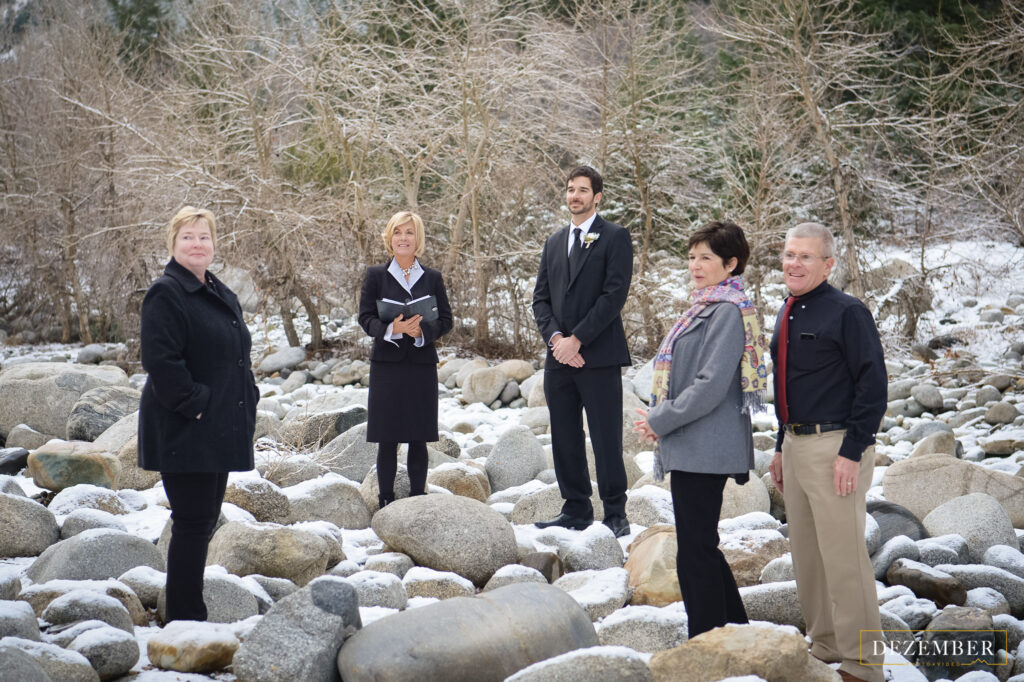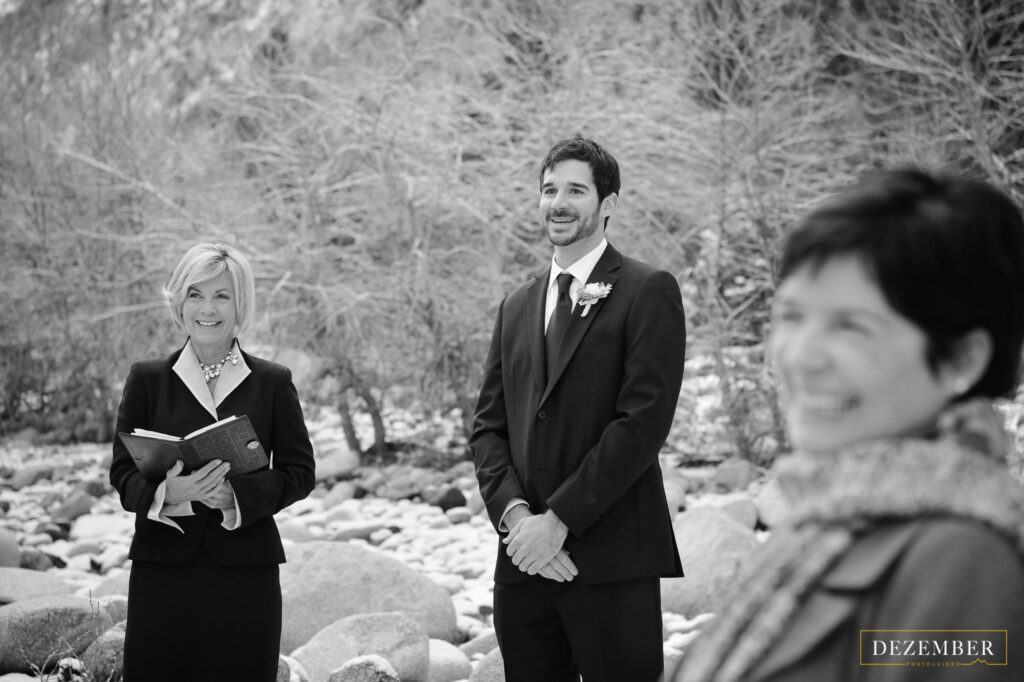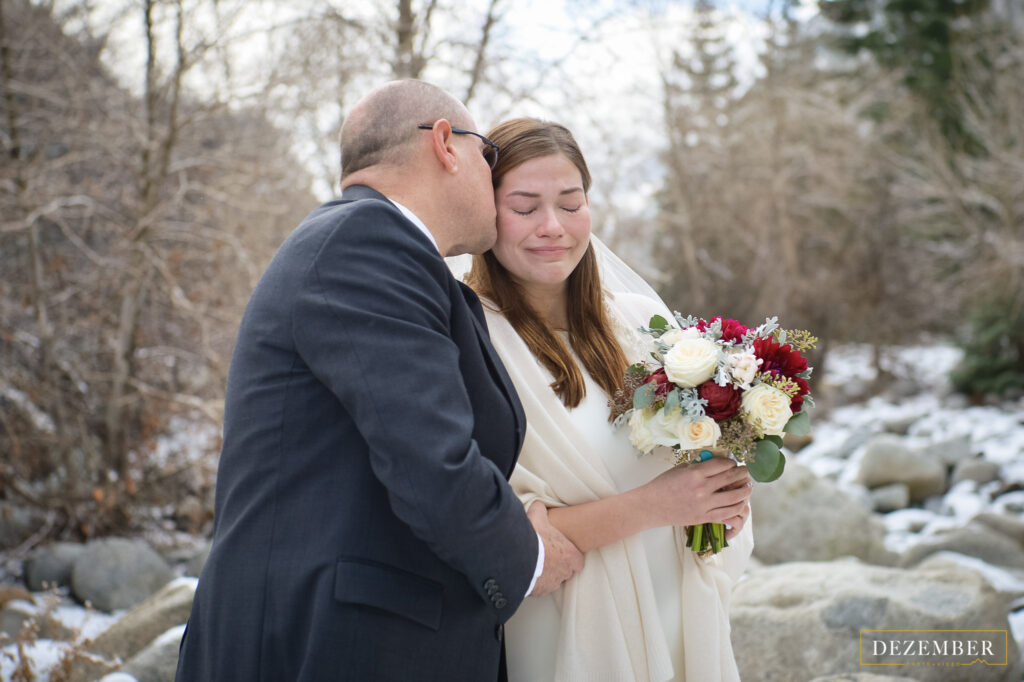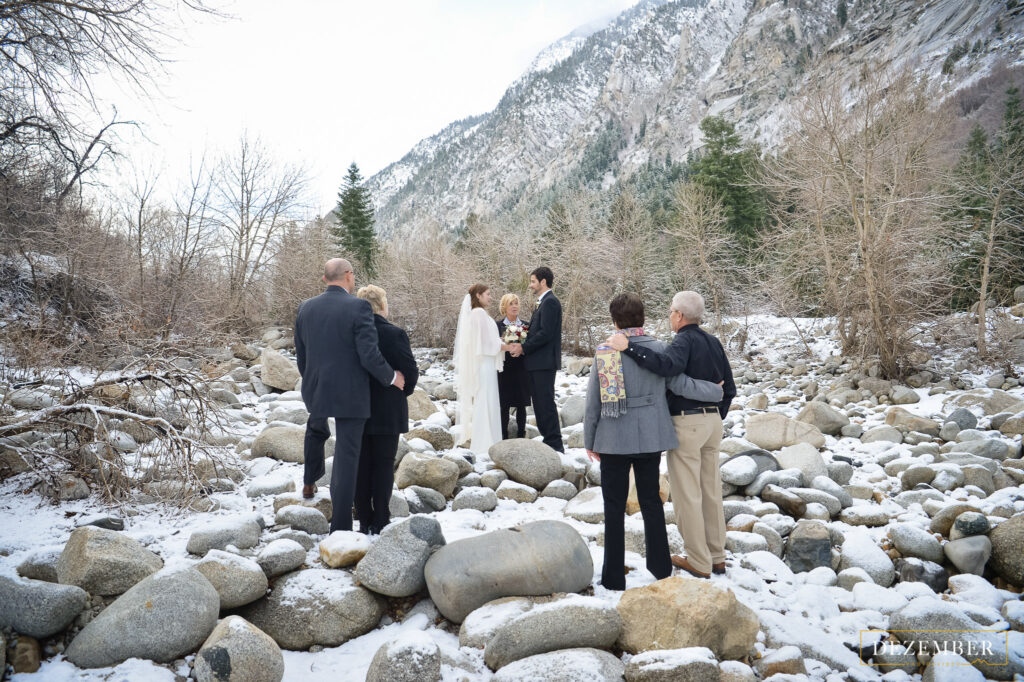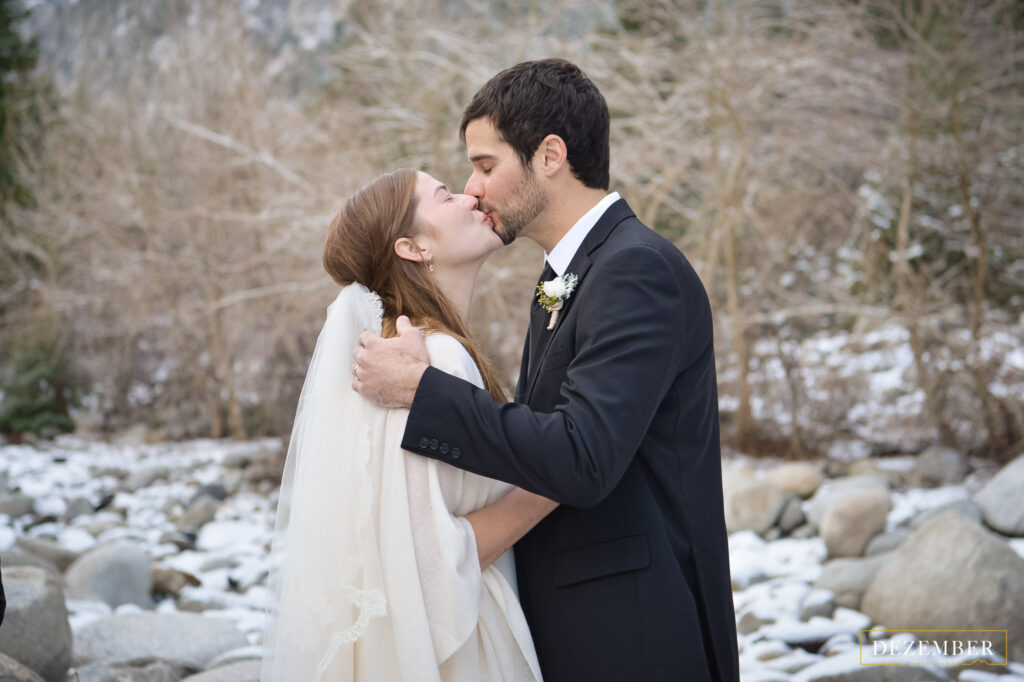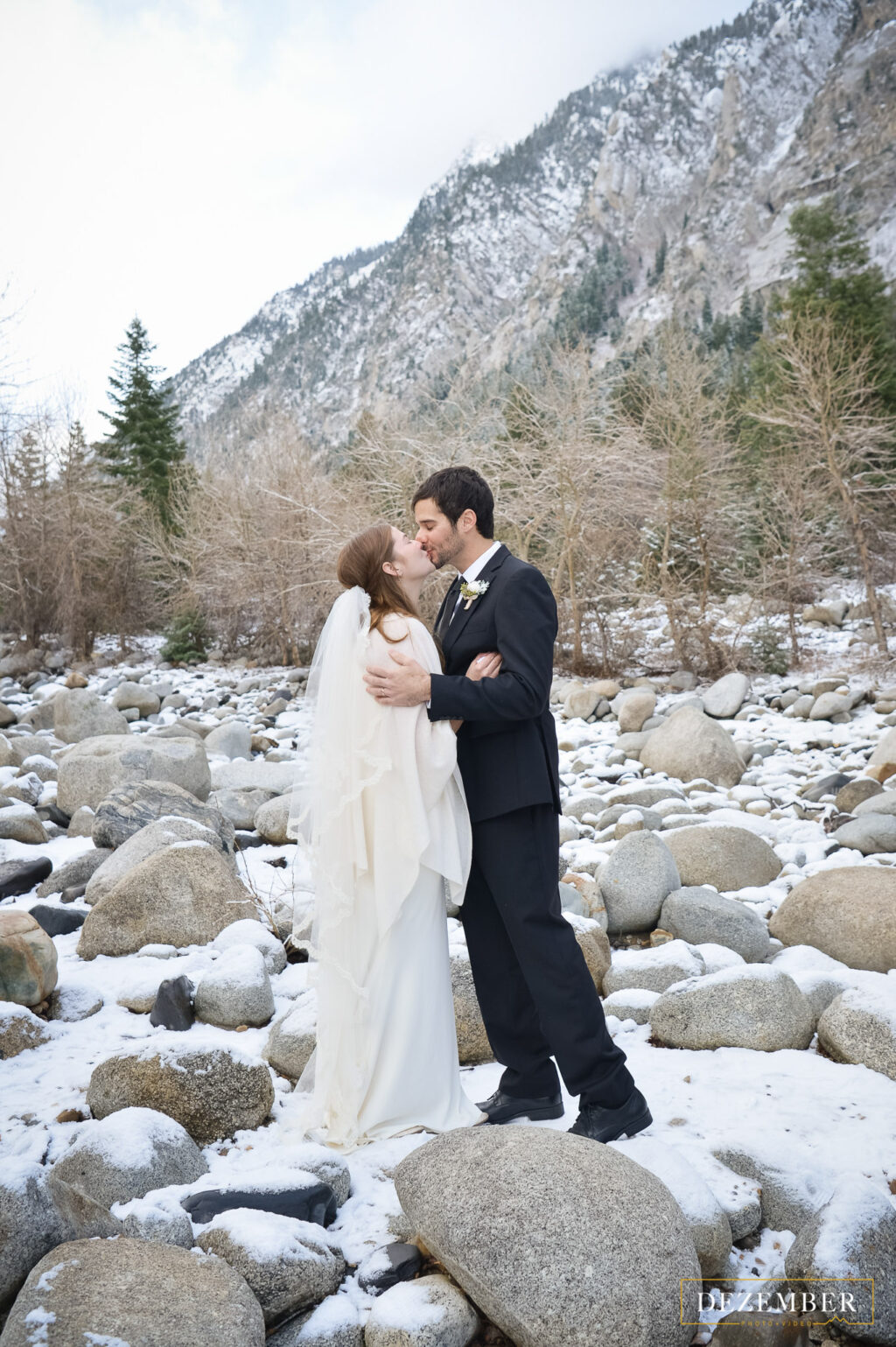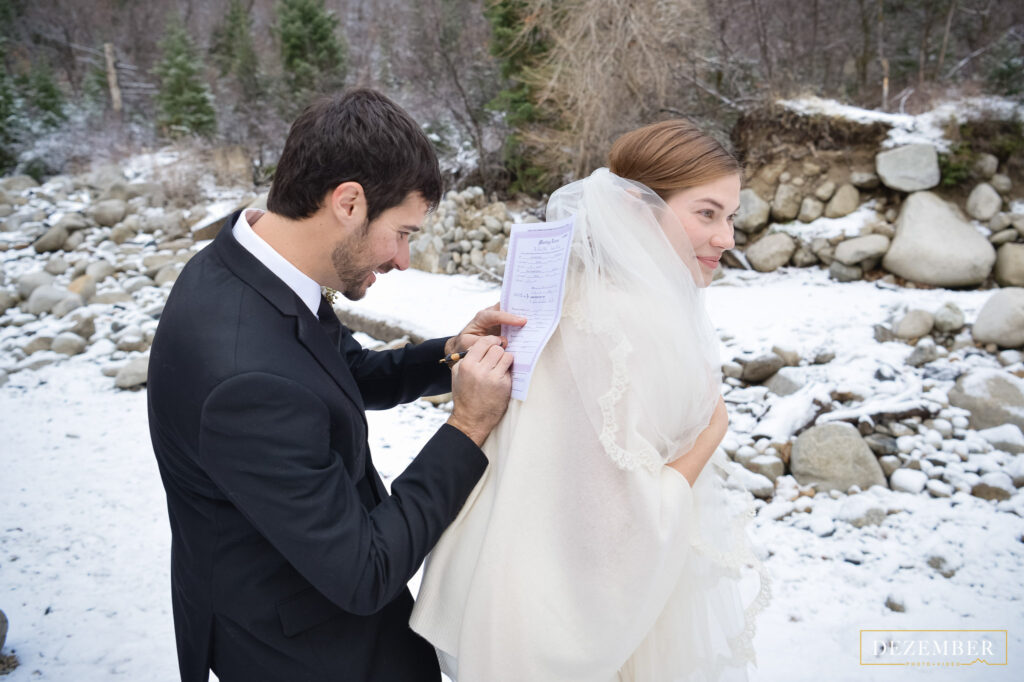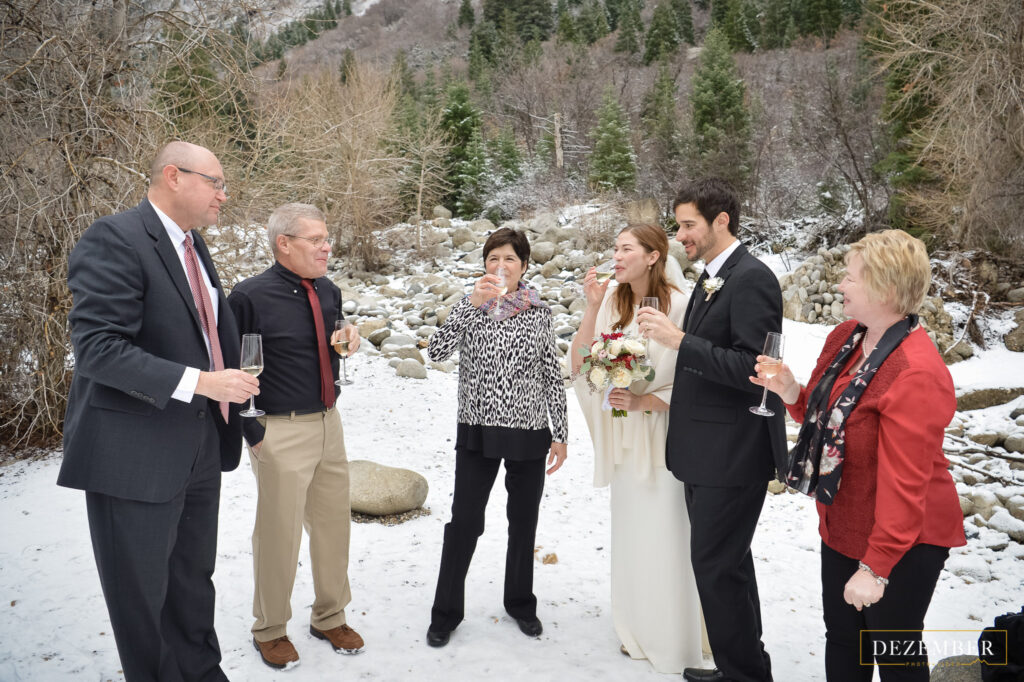 Cheers to the Newlyweds!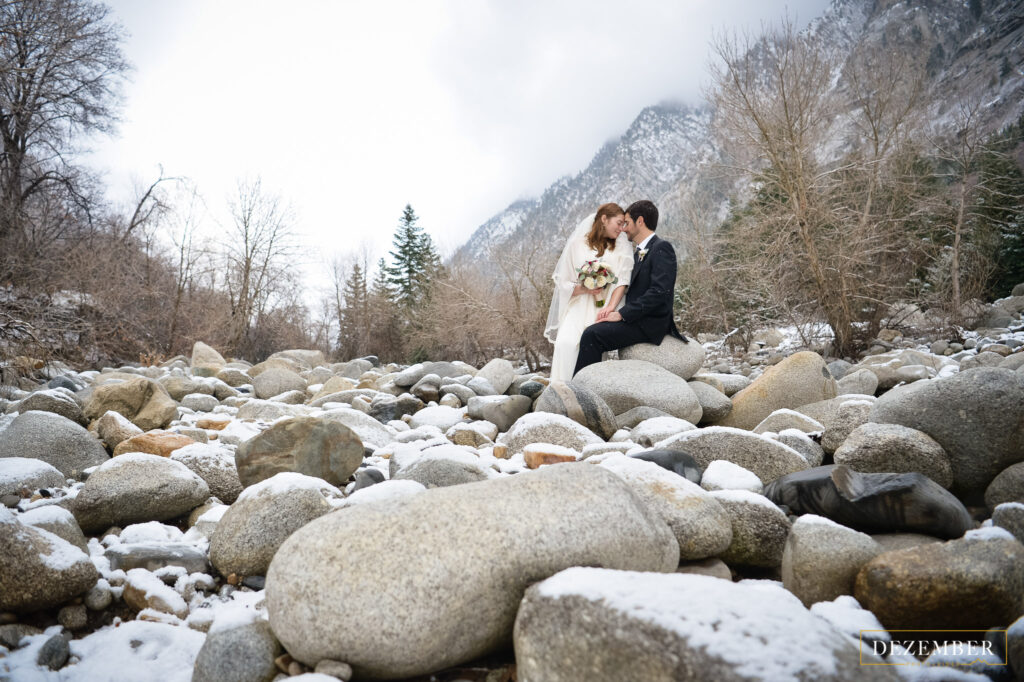 If you've visited us at the studio or a wedding show you've probably seen this canvas! One of our all time favorite shots!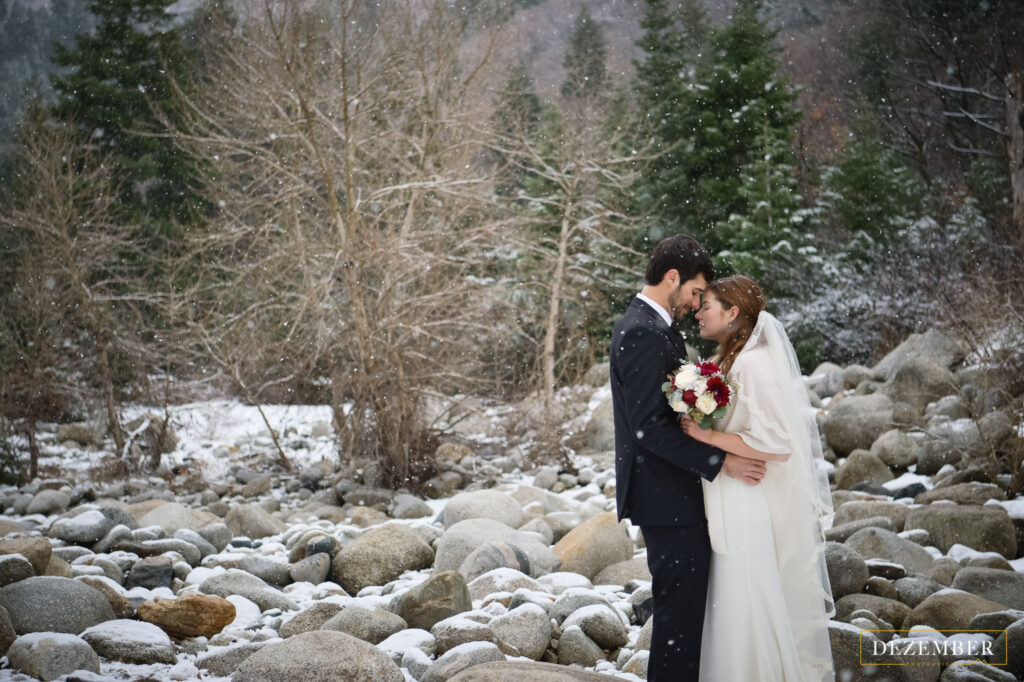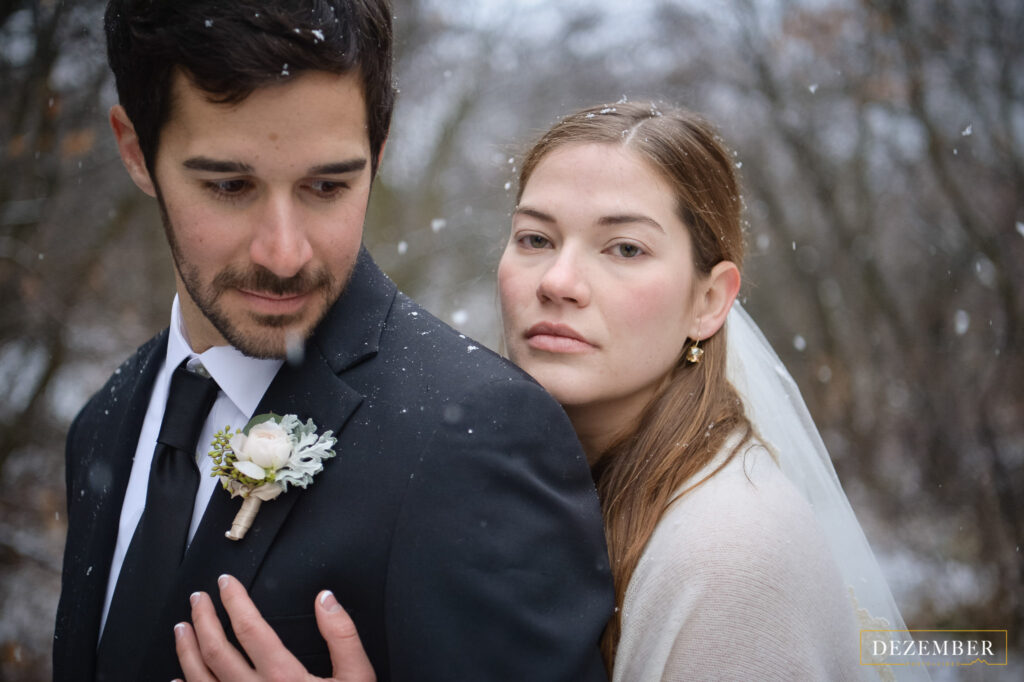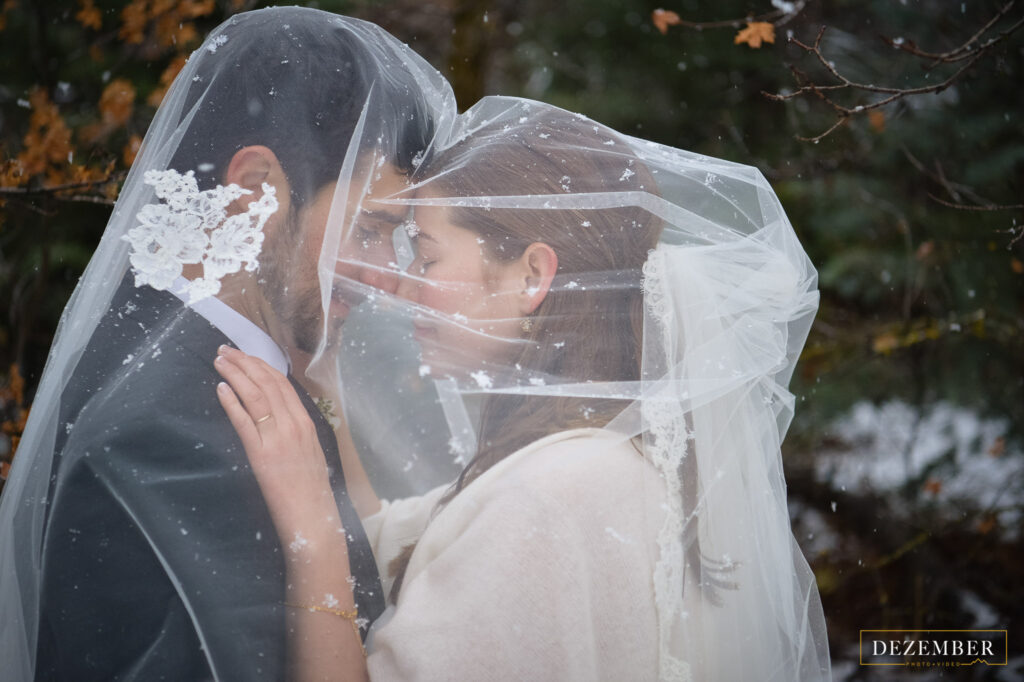 Perfect moment with these two in the snow
Here is another elopement we shot with Anita. Joseph and Ashley fell in love with this spot on Antelope Island. Their pup and their moms were their witnesses! (Hint hint: you are required to have two [human] witnesses and we would be happy to sign as one!)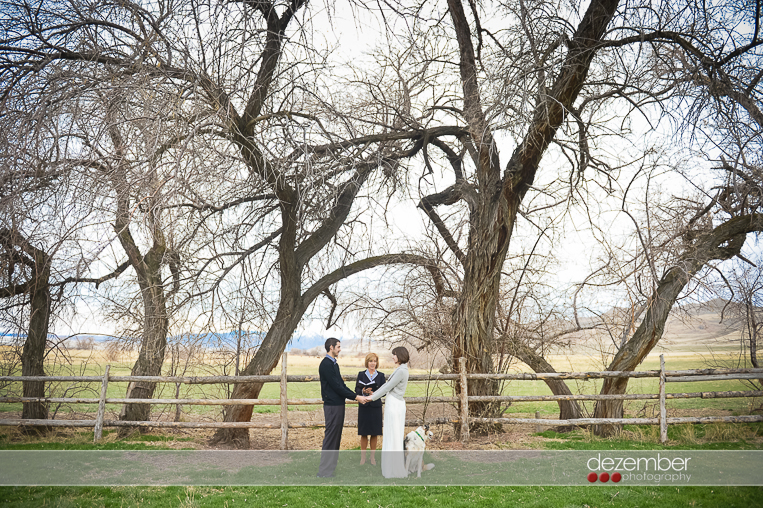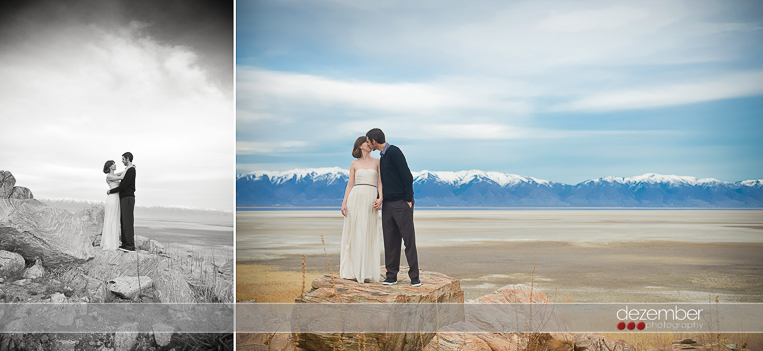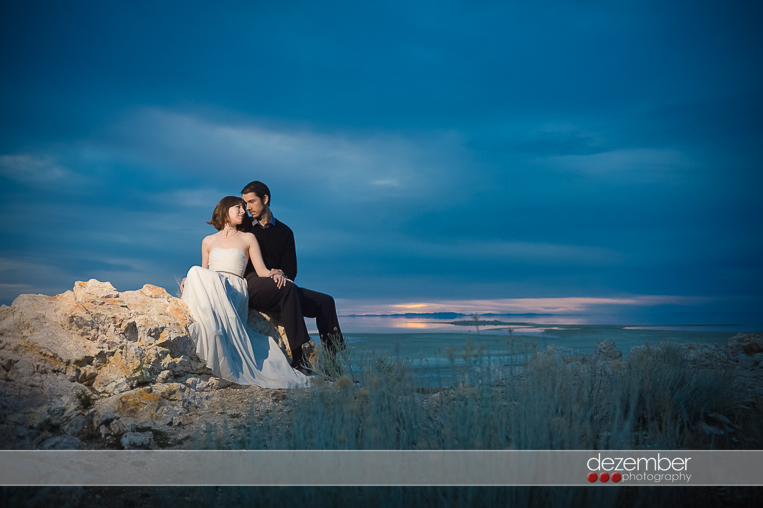 You can see more from their wedding by CLICKING HERE!
No matter what happens in the next few months we are here for you and are so excited to capture your wedding.