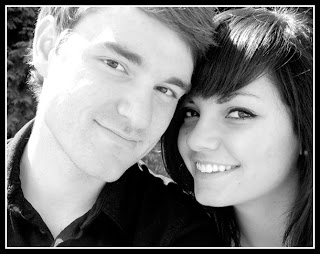 Travis & Jaqui
A couple weeks ago I asked on my blog for your engagement stories. I have had a lot of response, but I had one that I wanted to post for everyone to read. I know its long but I thought I would share. 🙂
Brody
Jaquilyn and I met through mutual friends in the Utah and Idaho independent music scene. At the time we first started talking she was living in Utah, and I was going to school at Brigham Young University-Idaho in the frigid town of Rexburg. At the end of the semester I went home to Washington to work. This would increase the distance between us and make it more difficult to get to know each other.
Even though the distance separating us increased by ten hours, Jaquilyn and I grew closer through long telephone conversations. It became clear within the first few nights that we were made for each other. We talked of a future together, and we hardly knew each other.
Jaquilyn came up to Washington to visit me, and the idea of spending our lives apart became increasingly difficult to consider. As the summer came to a close, I was back in Idaho, and nearly every weekend was spent together. Thousands of miles were added to our cars, and the price of gas quickly ate away our bank accounts, but we were happy.
Jaquilyn had talked to me about what her ideal wedding would consist of. She showed me pictures of rings she wanted in an obvious attempt to influence my spending. Although I loved Jaquilyn and could not imagine being without her, the idea of marriage was difficult for me – until I found the perfect ring; a gorgeous round diamond in a white gold pavé setting.
Finding the perfect ring was a sign to me that it was time to propose. With Christmas in the air, the atmosphere was perfect. On December 23rd, Jaquilyn and I decided to attend the Nutcracker, one of our favorite holiday traditions. I specifically planned out our evening so that we would leave early from her house in Kaysville to the ballet in Salt Lake City. Leaving early would give us enough time to stop by her favorite place on earth, Temple Square.
With the ring in my coat pocket and sweat emanating from my nervous body, we walked through Temple Square and admired the lights in the snow. Time after time she reached for my coat pocket to keep her hands warm in the cold air, but I effectively defended the ring box, which seemed to weigh a ton in my pocket. As we made our way to the reflection pool, my heart pounded and I gave her a hug and told her I had something for her.
We both started crying and I got down on one knee. I reached for the ring box and pulled it out. As I opened the box, the ring fell out and bounced all over the ground. I grabbed the ring and asked her to marry me. In a mixture of laughter and tears she nodded and said "uh-huh," to the delight of the festive onlookers.
The night was made perfect as we watched the Nutcracker from the nosebleed section. (Both rings and ballet tickets can be expensive.) We then enjoyed our favorite food –spaghetti with mizithra cheese at the Old Spaghetti Factory and finished our Christmas shopping. We announced the news to her parents that night, and the following day we traveled to Washington to spend Christmas with my family.
Knowing that my family was expecting news from us, Jaquilyn hid the ring in her pocket. We said hi to everyone and laughed as we caught people inspecting her hand to find a ring. My six-year old niece Reagan was busy announcing Santa Claus' Christmas Eve location throughout the world, prefacing it each time with "I have an announcement!"
Being that we had an announcement as well, we called Reagan over to announce that we were getting married. Reagan excitedly ran into the other room where the rest of the family was and yelled "I have an announcement!" No one paid much attention until she said "Jaqui and Travis are getting married!"
With our wedding coming up on May 12th in the Salt Lake Temple, our story will begin another chapter. Through sleepless nights on the phone, countless trips to across state lines and lots of mizithra cheese, we have found happiness and have made thousands of memories. And we're pretty excited to live in the same state – it will cut down on gas.