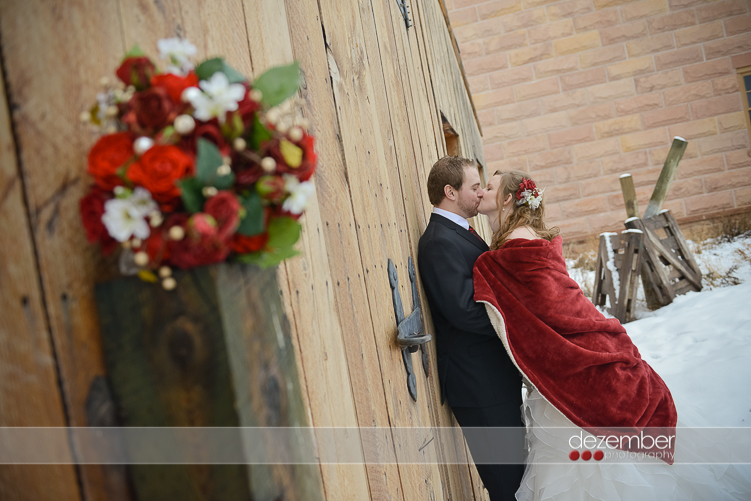 10 Reasons We LOVE Winter Weddings
Not every bride dreams of an outdoor wedding – and let's face it – summer weddings can be downright hot and miserable for both you and your guests! Winter weddings are growing in popularity, and December is now the #3 most selected wedding month. Still not sold? Check out these 10 Reasons We Love Winter Weddings and discover for yourself why a snow-filled wedding is right for you!
1.  First Choice For Top Vendors
With most brides opting for a traditional spring or summer wedding, the chance that your top vendor picks will all be available on the same day is pretty slim. But with a winter wedding, you are likely to have your pick of vendors _and_ at a discount! Many vendors are willing to give bigger deals during their slow months, which is a HUGE bonus for you!
2.  You Can Focus On More Details
After saving a little extra on your vendors, it's easier to add in those special details you just can't live without! From extra toppings at the hot chocolate bar to even more sparkling lights to set the mood, winter weddings are the perfect way to customize on a budget!
3.  Winter Is The Perfect Time For Your Caribbean Honeymoon
Just one more reason to justify escaping the cold for a warm, sunny island getaway! We know you can't deny wanting to feel your toes in the sand!
4.  Winter Weddings Are Sure To Stand Out
After a summer of traditional weddings, your guests are sure to look forward to something out of the normal, and a winter wedding does just that! Everything from the attire to plated dinners is unique to the cold winter months. Plus, your celebration is something for guests to look forward to before spring!
5. Seasonal Décor Is Unique – And Easy To Come By!
Winter weddings allow plenty of room for creative seasonal decorations to make your event a true Winter Wonderland.  Frosted pine cones, snowflakes and elegant holiday lights are easy to come by this time of year, and as an added perk, many venues will already have these in stock for their own holiday decorating.  That means even more savings for you!
6.  The Winter Fashion Options Are Endless
This time of year, anything goes!  You can choose the classically elegant long sleeve gown, or spice things up with with a sleeveless bareback gown and add on faux fur, upper arm satin gloves, or an embroidered coat.
7.  Mmm…. Comfort Food
Rather than your usual choice of beef or chicken, the cold weather is begging you to warm the menu up!!  Consider serving hearty soups, pastas and casseroles, and don't be afraid to make dessert a treat too!  Hot chocolate and s'mores bars are all the rage, and your adult guests are sure to love the delicious eggnog cocktails!
8.  It's Snowing!
The overcast weather provides perfect natural lighting for photo sessions, not to mention the enchanting snowflakes that are sure to flurry around the two of you. Gorgeous!
9.  Avoiding The Unexpected
It's more than likely your ceremony will be held indoors, and thus, you won't be worried about the chance of rain clouds looming over your otherwise perfect day.  Spring and summer weddings are often hit with the unexpected weather change, but in winter, you have a pretty good idea of the elements to come.  Just be sure to plan for a little extra time for guests to arrive on a snowy morning!
10.  Winter Weddings Are… Magic.
Just like the first snowfall of the season, winter weddings are magical and romantic!
Let is snow! Let it snow! Let is snow!
To read more clips of this helpful article referenced from Huffington Post & Bridal Guide, click HERE!