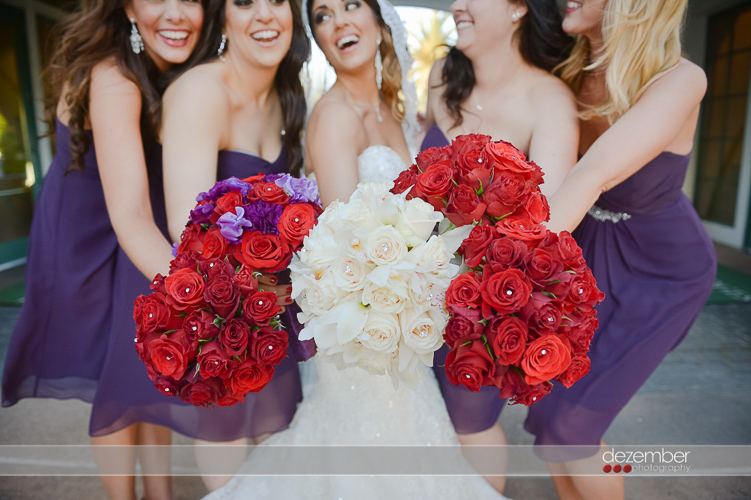 You've been waist deep in wedding planning for months, and now it's time to finally tie the knot!  But even with all of the planning, you can never fully anticipate the wedding day until you are in the middle of it!  So before you walk down the aisle, say "I Do" and party like crazy at your reception, take a breather and read up on these TOP 10 WEDDING PLANNING TIPS from a group of newlyweds who have been through the excitement, the planning, and even the chaos of a wedding, and have the best advice for you on your big day!
1. Take Your Time

"Matt and I planned our wedding for sixteen months, and it really helped to keep stress levels down. We got tons of stuff done early and had time to save for the things we really wanted. You only get to plan your wedding once, so make sure it is a fun time, not a stressful one!" —Claire and Matt
2. Be Present In Each Moment
"On your wedding day, soak up all the love, joy and bliss! Enjoy!" —Rachelle and Pete
3. Do A First Look – There is nothing like capturing the look on his face when he first sees you in the dress!
"It was one of the best decisions we made during our wedding planning. Our photographer and videographer collaborated and found a secluded area, away from all the madness that was going on that morning; we got a moment to see each other for the first time. It allowed us to take a deep breath, let the moment sink in, feel all the emotion we were about to feel all day. No matter what you decide, the important thing is choosing what's right for you as a couple." —Leah and Kevin
4. Hire A Day-of Coordinator/Wedding Planning/Experienced Venue
"The biggest piece of advice I have for brides and grooms that are planning a wedding is to hire a day-of coordinator so that you can enjoy your wedding day. Your coordinator allows you to take in all of the details and actually spend time with your guests and family. "—Alyssa and Aaron
5.  Accept That You Can't Please Everyone – This is YOUR day!
"You cannot make everyone happy, and trying to accommodate others will just make the whole process more daunting. This is your day; make it about you. It really is the only day that you will get that chance."—Heather and Kyle
6. Celebrate Your Love – And Let Others Share Your Joy, Too!
"Tyler and I both went into our wedding knowing it would be incredible because at the end of the day, we were to be married, and that was the main purpose. Our advice is to understand that a wedding isn't about perfection. It is about the love you share and the vows you say. Everything else is a bonus.
Also, remember it isn't all about you. Yes, it is your wedding and the celebration is in your honor, but a wedding is also an opportunity to thank all of the important people in your life who love and support you. It is to celebrate love, and it is meant to be fun! Enjoy it!" —Desiree and Tyler
7.  Take One Things At A Time 
"You can be easily overwhelmed in planning a wedding without a full-time wedding coordinator. But once you select the date and venue, the rest will fall into place. Think about the three most important things to you, and work on those next—whether it's the photography, dress, food, music, florals, etc. Make a list and slowly cross things off as you go.
The biggest thing is that when your wedding day finally arrives, it literally flies by in the blink of an eye. All of the planning, stress, money, and time put in over the entire year comes and goes in a flash the day of your wedding, so try to enjoy the whole process. At times, you'll be stressed and overwhelmed, but just enjoy the entire engagement and planning period, because when it's all over, you'll miss it and want to do it all over again!"  —Malia and Brandon
8.  Kiss Your Husband As Many Times As You Can
"All the stress you had before the big day…just let it go. It is what it is, and stressing will only damper your big day. If it's out of your control, let it be out of your control and just roll with it. Cherish every moment because it goes by so fast. And kiss your husband as many times as you can that day. It's all about the two of you, don't lose sight of that." —Megan and Steve
9.  Eat! – Especially when you have the cake of your dreams!
"Take the time to eat on the day of your wedding. Tristan and I didn't slow down or eat anything all day, and by the time the wedding was over, we were so worn out and hungry!"—Nicole and Tristan
10. Don't Get Too Caught Up In The Details
"Take a step back and remember what is important—you are marrying the love of your life!  The dresses, cake, flowers, food, and drinks will have no bearing on the success of your marriage, so don't sweat it and always focus on keeping a realistic perspective."—Kelly and Matthew
To read more of this awesome article from Bridal Guide, click HERE!